Sorry, no more maps As we have to pay Google to use their maps from Jun 2018, providing maps on this site is no longer financially sustainable. From 1 Jun 2018 this site will not have maps. However the registration statistics are still available. We regret any inconvenience to our users.
Find Singapore Primary Schools within 1 and 2 km
You obtain the reference position by the following 3 ways
GPS. For iPad, iPhone, Android smartphones or geolocation enabled desktop browsers, your location is automatically determined if you give permission. Please refer to the browser help for information on geolocation permission.
entering the address. Please add Singapore to your address to narrow geocode to Singapore addresses.
when the map is displayed, move the reference marker to the desired location and click.
Parents or home buyers can now check if their home is within 1 or 2 kilometers of their choice Singapore primary school. The 1km circumference is in blue while the 2km circumference is in red. Only the 20 nearest primary schools are displayed. The information is provided AS-IS and we are not responsible for any inaccuracies. Please check with the schools concerned for the exact status of your home location.
Parents can register their child at any Singapore primary school of their choice. However if there are more applications than vacancies, then balloting will be conducted. Balloting will be conducted according to the following order of priority:
Children living within 1km of the school
Children living between 1km-2km of the school
Children living outside 2km of the school
The address used in the P1 Registration Exercise should be the parents' official residential address as reflected on their NRICs. This address will be used to determine the home-school distance category, where required for consideration of priority in admissions.
From the 2015 Primary One Registration Exercise, a child who gains priority admission into a school through his/her distance category is required to reside at the address used for registration for at least 30 months from the commencement of the P1 registration exercise.
Starting from the 2014 Primary One (P1) Registration Exercise, the Ministry of Education (MOE) will reserve 40 places in every primary school for registrants in Phase 2B and 2C (20 places for each phase) to ensure continued open access to all primary schools.
From 2012 onwards, the Ministry of Education (MOE) will implement measures to further differentiate between Singapore Citizens (SCs) and Permanent Residents (PRs) at the Primary One (P1) Registration Exercise. When balloting is necessary in a specific phase, SCs will be given absolute priority over PRs. SCs and PRs will continue to be eligible for the same phases, and all applicants will be admitted if the total number of applicants in any phase does not exceed the number of vacancies. However, if the number of applications exceeds the number of vacancies in a specific phase, SCs will be admitted first ahead of PRs, before home-school distance is considered.
On each school page, a map of the school with its 1 and 2km radii is shown. In addition, the 2017 to 2009 Primary One Registration exercise results are given.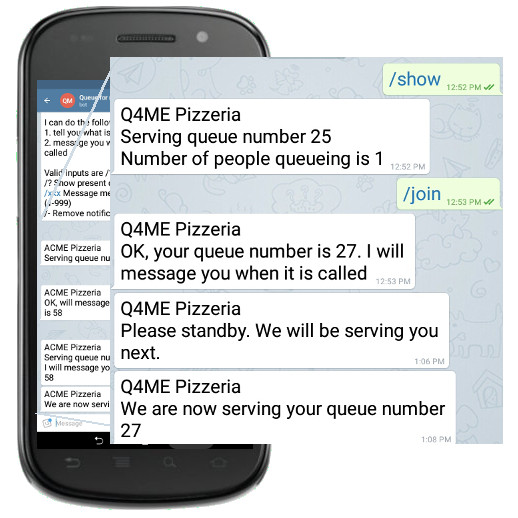 Queue Management using Chatbots Does a long queue frustrate your customers? Solve it for less than the price of a meal a day. FREE for students or staff from educational institutions who need to manage queues.